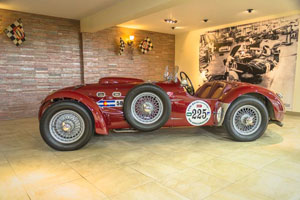 The J2X was the penultimate creation of the Allard Motor Company's family of vehicles built between 1936 and 1964 (and arguably its most successful). Founded in 1936 by Sydney Allard, the company produced some 1,900 automobiles. These included hill climbers, sprint cars, sedans, racing cars and even dragsters. Sydney Allard was the consummate racer. His cars enjoyed a solid reputation as serious contenders at Le Mans, Monte Carlo, Watkins Glen, Silverstone, Pebble Beach, Goodwood, as well as countless other tracks throughout Europe and North America.
The legendary J2X was a limited production competition roadster, with only 83 produced between 1951 and 1954. Approximately 60 still exist today. Allard Motor Company never produced its own engines, rather it successfully integrated existing American V-8 power plants into its cars to great effect. Some factory Allard J2Xs were equipped with a Ford-Mercury flathead, or more commonly, the 331 cu. in. Cadillac / Chrysler 331 Hemi Firepower that made its racing success legendary. At the rear, the J2X's sported a unique deDion differential, and an innovative independent suspension, well ahead of its time.
The Allard's racing notoriety came at the hands of individuals who are now legends in their own rights – Sydney Allard, Zora Arkus Duntov (Corvette pioneer), General Curtis LeMay (Commander of the Strategic Air Command), Carroll Shelby (entire 1953 season) and Steve McQueen.
Chassis #3211 was one of only five cars issued with an Oldsmobile 371 CI engine and was purchased from the factory by Gines Arimany, for a Guatemalan General who raced the car in street races in Central America for several years. It came to the USA and was restored in 1977, taking prize winnings at Pebble Beach Concours, as well as 5 consecutive class wins at the Monterey Historics throughout the 1980s! The historically eligible car then participated in the 1987 Mille Miglia race in Italy with John Gorsline and Brian Redman driving. More recently, the car has participated in many famous rallies stateside such as the Colorado Grand.
The Allard J2X was often called "THE BRUTE" and was the car to beat in the early days of sports car racing in the US. The Allard Formula of European chassis engineering with American power has become a classic combination leading the way to such notable cars as the AC 427 Cobra, the Sunbeam Tiger, and even the Pantera.