1983 March/Chevy 83G GT
"The Red Lobster"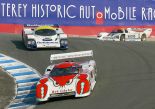 IMSA GTP was an American sports car racing series organized by John Bishop, and his International Motor Sports Association from 1981 to 1992. It was a follow up series to the successful IMSA GT Series of the late 70's that featured such automotive icons as the Porsche 911RSR, the 935 Turbo, and the Chevy Corvette. The GTP cars were of course prototype cars fashioned to go up against the FIA Group C cars of Le Mans, and the World Endurance Championship, but without the fuel restrictions. Many such cars actually competed in both series, and were driven by such legends as Derek Bell, Hurley Haywood, Al Holbert, and Brian Redman.
March Engineering, a British Chassis manufacturer began building race cars in 1969, and has won races in every race series from Formula Ford, to Indy, to Can Am, and to F1. March built four of the 83G (1983 model) to IMSA GTP  specifications. None other than noted designer and aerodynamicist, Adrian Newey (of Red Bull F1 Team fame) designed this true "ground effects" car. Three of the GTP cars were bought by Al Holbert, who raced two cars with the  Chevrolet V8.
Chassis #3 was originally raced by Holbert with a 366 Chevrolet small block. It ran in red and whiter livery with CRC Chemicals / Red Roof Inn sponsorship. In four races in 1983 IMSA he earned a 2nd at Riverside, and 1st in Miami, Mid Ohio and Laguna Seca. Holbert sold the car to David Cowart and Kemper Miller, who were sponsored by Red Lobster. They were stockbroker / racer 'privateers' and up against the cubic money of much more well endowed sponsorships and factory teams. With that in mind, their results were remarkable: In '83 they were on the podium at Brainerd IMSA, Sears Point, Mosport and scored a 4th at the Daytona finale. In 1984 they were 2nd at Laguna Seca, Mosport and  Michigan, 3rd at Riverside, 4th at Road Atlanta, 6th at Sears Point and Lime Rock. Cowart noted that "the car was brutal to drive with such stiff springs and high g-force cornering capabilities, that I was glad to hand the car over after a 20
minute stint".
In the world of early GTP cars, the March 83G in this livery and sponsorship was arguably one of the best known cars of its day due to the distinctive graphics that suited the shape of the car; so much so, that IMSA leased the car from  Miller, as a promotional demonstration car for media events!
The car has been featured numerous times in Vintage Motorsports Magazine cover features.